SUSTAINABLE MODERN HAWAIIAN
H E R I T A G E

weaving Hawaiian traditions and values into beautiful, easy clothing

ʻĀ I N A

a deep love for our island home and the people of this land drives our small batch sustainable manufacturing practices

A L O H A

innate

natural beauty

and pure breath

ʻO H A N A

the entire family is woven into the fabric of Hawai'i life; naturally they are all a part of KŪLUA
FEATURED STORIES
WORDS FROM THE DESIGNER

"It often gets reduced to a specific motif or craft, but that's really not it. It's that we see ourselves as part of ʻāina, not as on ʻāina. So we often choose to adorn ourselves in elements of our land to further this thought,"

"My approach to fashion is very similar—I design first by thinking of how a garment will adorn a wahine and what sort of things she can take with her throughout her day to stand taller [and] feel more grounded and ready to take on her day,"

DESIGNING FOR A NEW GENERATION OF HAWAIʻI
Taking inspiration from her Hawaiian culture, Kūluaʻs collections use prints and fabrics to tell stories that connect people with culture and place while looking and feeling good.

In today's society now more than ever, Native Hawaiians are standing up for their culture. With a deep connection to the ʻāina (land) and sea (kai). Native Hawaiians perpetuated the art of sustainability long before it was a concept. Representation of our culture and intertwining it into our daily life is key to strengthen our Native Hawaiian communities. It's with this in mind that Native Hawaiian, Anna Kahalekulu expresses her love for her culture with her sustainable-made clothing line, Kūlua.
NEW RELEASES
Our freshest prints and cuts
Regular price

Sale price

$104.00

Unit price

per

Regular price

Sale price

$158.00

Unit price

per

Regular price

Sale price

$138.00

Unit price

per

Regular price

Sale price

$118.00

Unit price

per

Regular price

Sale price

$92.00

Unit price

per
CARING FOR YOUR KŪLUA

We put a lot of thought and care into making your garments and we hope that they are your favorites from season to season.

We put together some guidelines for you to get the most life out of your Kulua garments.

read on

CRAFTED BY HAND

Our goods are cut and sewn in small batches at our Studio Shop in historic Makawao town.

Our fabrics are soft and sustainable, using industry best practices for eco-friendliness.

read on

THE DESIGNER

Anna Kahalekulu is the mind and hands behind Kūlua.  She is a skilled seamstress, patternmaker, and designer.

read on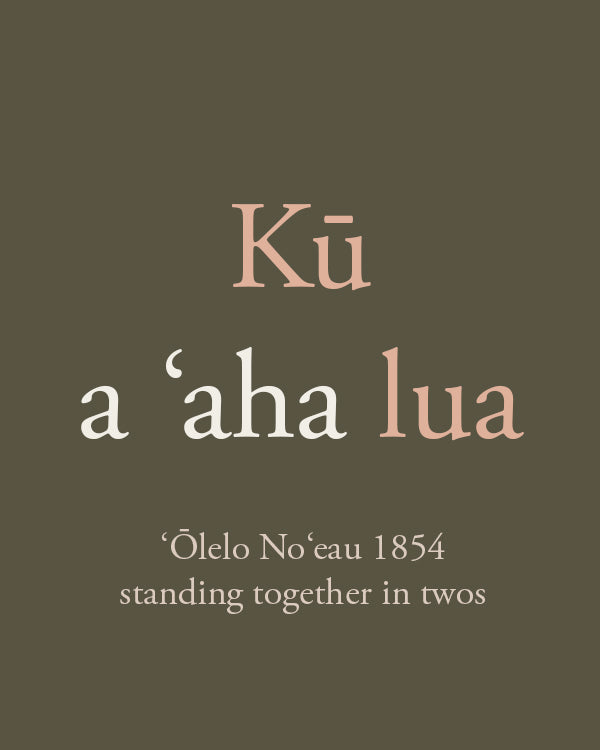 Maui Wildfires
In August we donated a portion of sales from the Made in Hawaiʻi Festival, and through the rest of the month, to the Maui Strong Fund at Hawaiʻi Community Foundation. Because of you, that amount totaled $3,808. Mahalo for supporting our small, sustainable business and Maui!

If youʻd like to contribute to Mauiʻs recovery directly, hereʻs some reputable organizations:

Peopleʻs Fund of Maui
Maui United Way
Kākoʻo Maui Fund
Maui Rapid Response
Maui Strong Fund
OUR PRINTS
Lokelani

Designed by Wailani Artates of Artistry8, our Lokelani print pays homage to Mauiʻs sweet smelling flower, the lokelani damask rose.  True to Wailaniʻs style, the graphic nature grounds the print in the art of our kūpuna, ancestors.
Kupukupu

E kupu aʻe!  Sprout, grow!

The kupukupu fern has an energy for growth of knowledge and new beginnings.  It is one of the first ferns to sprout after the lava flow hardens.  It is also found in the forest - sprouting, unfurling, and reaching for the warmth of the sun that shines through the forest canopy.
Ulu Hala

Our Ulu Hala print pays homage to the tradition of lauhala weaving and features both the leaves and the roots of our beloved pū hala, hala tree.  Roots woven below, leaves woven above. The pū hala roots weave together and the ulu hala, grove, grows, thickening, slowly moving. The leather-like lau hala kū and moe in creation, interlocking with infinite possibility.
Print features original art by Kyra Glover.
Pōhaku

Steadfast.

Print features original art by Kyra Glover.
ʻOpihi

These tasty limpets hold fast to the pōhaku, rocks, at the kahakai, seashore.

Print features original art by Kyra Glover.
Elements Collection

Ka Lā sun  Ānuenue rainbow  ʻŪkiu rain of Makawao

A collection of prints inspired by the ʻāina, land, where our Studio Shop sits on the slopes of Haleakalā (or as some Kūpuna would say, ʻAhele i ka Lā).  We celebrate the dawning of day, the life-giving rain, and the light that dances in playful color when the two mingle.

ʻŪKIU

This light rain that falls in Makawao, Maui often comes down sideways as it catches the wind off the side of Haleakalā.  A yellow-tinted color, it is said to dye the leaves yellow.

KA LĀ

This print pays homage to our largest mauna, mountain, on Maui - most often referred to as Haleakalā, the house of the sun.  Other older stories refer to it as ʻAhele i ka Lā, or the snaring of the sun.  It is here that demi-god Maui snared the sun so that his mother, Hina, had more daylight to dry her kapa, barkcloth.

ĀNUENUE
Designed with an ʻohe kapala style print to show the small droplets that make up the colored stripes of a rainbow.  Our Ānuenue print is a slightly vintage striped look.